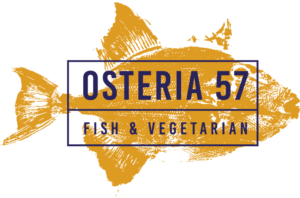 (V) Vegan or can be made Vegan
(GF) Gluten Free or GF available
Ask your server about
vegan or gluten free options

glass / pitcher
BLOODY MARY
O57's recipe 13/54
MIMOSA
Orange juice, prosecco 12/50
VODKA LEMON
agave, rosewater, mint 14/56
FRIED CALAMARI
Long Island calamari, marinara sauce  19

AVOCADO TOAST
sourdough bread, pickled red onions, confit cherry tomatoes  16  (GF)(V)
BURRATA
local apples, wild arugula, pickled brown beech mushroom, apple cider dressing  21  (GF)

BRUSSELS SPROUTS SALAD
balsamic pickled raisins, Pecorino cheese, shallot dressing 19

RICOTTA TOAST
sourdough bread, whipped ricotta, truffle honey 18
add egg +3
add shaved Burgundy truffle +8

ROASTED CAULIFLOWER
whipped pink ricotta, paprika dressing, pickled red onion, fresh herbs 19

LEEK AND POTATO SOUP
treviso radicchio, hazelnut, saba 19
UOVA PURGATORIO
baked eggs, tomato sauce, Borlotti beans, provolone, peperoncino 19 (GF)

MUSHROOM FRITTATA
roasted mix mushroom, Parmigiano Reggiano, wild arugula 21 (GF)

EGG FLORENTINE
ciabatta bread, roasted peppers, spinach, smoked scamorza, poached eggs, hollandaise 21 (GF)
TRUFFLE & EGG CACIO E PEPE
Pecorino cheese, black pepper, poached eggs, shaved black truffles 31 for two 57  (GF)
PAPPARDELLE PISTACHIO
homemade pappardelle, pistachio pesto, ricotta salata, mint 24  (V)

PACCHERI POMODORO BURRATA
Italian tomatoes, basil, fresh burrata 23  (V)

LINGUINE VONGOLE
Manila clams, garlic, parsley, olive oil 26

PLANT BASED FRENCH TOAST
polenta sourdough, coconut yogurt, mix berries, maple syrup 22  (V)

BRANZINO
celery root purée, treviso radicchio, pickled red onion, salmoriglio 33  (GF)

ROASTED MAITAKE
heirloom polenta, smoked scamorza, arugula pesto 29 (GF)(V)

ROASTED MUSHROOMS (GF)(V)
fresh herbs, garlic 12
BRUSSELS SPROUTS
Calabrian chili honey 12 (GF)

ROASTED POTATOES
fresh herbs, garlic 12 (GF)

TIRAMISU
lady fingers, espresso, mascarpone 12
SICILIAN CANNOLI
sheep ricotta, candied oranges, pistachio, chocolate fondue 12
OLIVE OIL CAKE
local whipped cream, mixed berries 12
PLANT BASED BLUEBERRY CHOCOLATE MOUSSE
Almond crust, Irish moss, organic blueberries 14
GELATO
daily selection 10
We support local farms and use only organic free range eggs
Please inform your server if you or any member of your party have any food allergies or dietary restrictions.
Raw or undercooked seafood, shellfish or eggs may increase the risk of foodborne illness.
Gratuity will be added to parties of 6 or more.