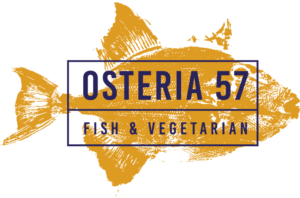 (V) Vegan or can be made Vegan
(GF) Gluten Free or GF available
Ask your server about
vegan or gluten free options

glass / carafe
BLOODY MARY
O57's recipe 13/54
MIMOSA
Orange juice, prosecco 12/50
VODKA LEMON
Agave, rosewater, mint 14/56
BURRATA (GF)
Braised leeks, roasted apples, walnut pesto 18
SUPPLÌ "BOLOGNESE"
Mushroom and walnut "Bolognese", smoked Scamorza, braised cabbage purée 16
CRISPY CAULIFLOWER (GF)(V)
Rice flour tempura, paprika, Gochugaru chili 16
Roasted carrots, radishes, fried shallot, paprika and lemon dressing, parmesan croutons, crunchy apple 18
Add egg +2 avocado +3 shrimp +7
Add 5oz pan-seared salmon +12
CARROTS (GF)
Local honey, crushed hazelnut 12
BROCCOLINI (GF)
Garlic, anchovies, Gochugaru chili 12
POTATOES (GF)(V)
Fresh herbs, garlic 12
AVOCADO TOAST (V)
Heirloom cherry tomatoes, arugula 16
TRUFFLE RICOTTA TOAST
Whipped ricotta, truffle honey, shaved Burgundy truffle, poached egg 26
SMOKED SALMON TOAST
Spaghetti squash, pickled onion, stacciatella 19
BUCATINI
Pecorino Romano, black pepper, shaved Burgundy truffle, poached egg 32
CAPPELLACCI
Handmade kabocha squash ravioli, brown butter sauce, hazelnut, Taleggio fondue, fried sage 26
PACCHERI
San Marzano tomatoes, basil, burrata 22
CONCHIGLIE
Yellow and green conchiglie, octopus ragù, Calabrian chili 28
CRISPY COD BURGER
Potato and cod patty, sesame bun, braised cabbage, romesco, gremolata 26
ROASTED MAITAKE (GF)
Heirloom corn grits, Cannellini beans, sunny side egg, Calabrian chili 24
EGGS BENEDICT
Sourdough bread, Swiss chard, smoked salmon, saffron hollandaise, salmon roe 23
FRITTATA (GF)
Charred broccoli and anchovies frittata, Taleggio cheese fondue 22
PASTRY BASKET
Selection of homemade pastries from our dessert shop "Pamina Dolci e Gelato" 12
FRENCH TOAST (V)
Polenta sourdough, blueberry jam, coconut yogurt 19
CHOCOLATE BREAD PUDDING
Fior di Latte gelato, crunchy walnut 16
Our fish and eggs are sustainably sourced, most of our produce is local and organic. Our pantry is GMO-, canola- and soybean-free.
Please inform your server if you or any member of your party have any food allergies or dietary restrictions.
Raw or undercooked seafood, shellfish or eggs may increase the risk of foodborne illness.
Gratuity will be added to parties of 6 or more.