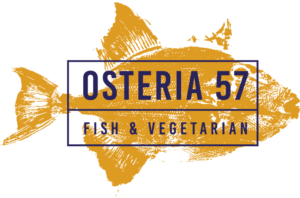 (V) Vegan or can be made Vegan
(GF) Gluten Free or GF available
CRISPY CAULIFLOWER (GF)(V)
Rice flour tempura, spicy paprika sauce 19
BURRATA (GF)
Fennel two ways, Sicilian pesto, fennel pollen 22
WATERMELON SALAD (GF)
Sungold cherry tomatoes, tarragon, feta cheese, saba 20
MARKET SALAD (GF)(V)
Chef's daily pick from USQ Market, Manadori balsamic dressing 21
LOBSTER BRUSCHETTA
Sourdough bread, Maine lobster, heirloom tomatoes, basil pesto, stracciatella 32
FRITTO MISTO
Calamari, jumbo shrimp, zucchini tempura, spicy marinara sauce 27
OCTOPUS (GF)
Summer potatoes, eggplant caponata, pickled raisins, Castelvetrano olives, pine nuts 25
CRUDO OF THE DAY (GF)
Chef's daily selection MP
Gluten-free pasta available upon request +2.50 (GF)
PACCHERI POMODORO BURRATA
San Marzano tomatoes, basil, burrata 24
SPAGHETTI CACIO E PEPE
Pecorino Romano, black pepper 23
MAFALDE PISTACCHIO (V)
Pistachio pesto, sundried tomatoes, Sicilian sweet lemon 28
DOPPIO RAVIOLO
Eggplant and cod raviolo, corn purée, marinated leeks, capers, breadcrumbs, caper leaves 34
SAFFRON GARGANELLI
Lump crab, Calabrian chili butter, lemon zest, crispy onion 36
LINGUINE VONGOLE
Gragnano linguine, Manila clams, garlic, parsley, olive oil 29
BLACK SEA BASS (GF)
Beet purée, grilled radish and cucumber, anchovies and Ribolla vinaigrette 39
MONKFISH (GF)
Romano beans, heirloom tomatoes, pickled Tropea onion, eggplant tapenade 36
STEELHEAD SALMON (GF)
Corn purée, radicchio, plums, tomato tartare 38
PEPERONI RIPIENI (GF)
Sweet pepper stuffed with "Artemide" brown rice, cauliflower, spinach, Provolone, balsamico 32
SHISHITO Maldon salt, balsamico 14 (GF)(V)
CORN Pickled onion, mint, chilli 14 (GF)(V)
SPINACH Parmigiano, walnut 14 (GF)
POTATOES Garlic, herbs 14 (GF)(V)
TIRAMISU
ladyfingers, local mascarpone, espresso, cocoa 15
CREMOSO Valrhona
chocolate, brownie, Sicilian citrus jam 15
SOFFICE DI MANDORLE (GF)
Almond flour, verbena, peaches, lemon sorbet, saba 15
MILLEFOGLIE Chantilly
cream, strawberries, salted caramel 15
Our fish and eggs are sustainably sourced, most of our produce is local and organic. Our pantry is GMO-, canola- and soybean-free.
Raw or undercooked seafood, shellfish or eggs may increase the risk of foodborne illness.
Please inform your server if you or any member of your party has any food allergies or dietary restrictions.
Gratuity will be added to parties of 6 or more.